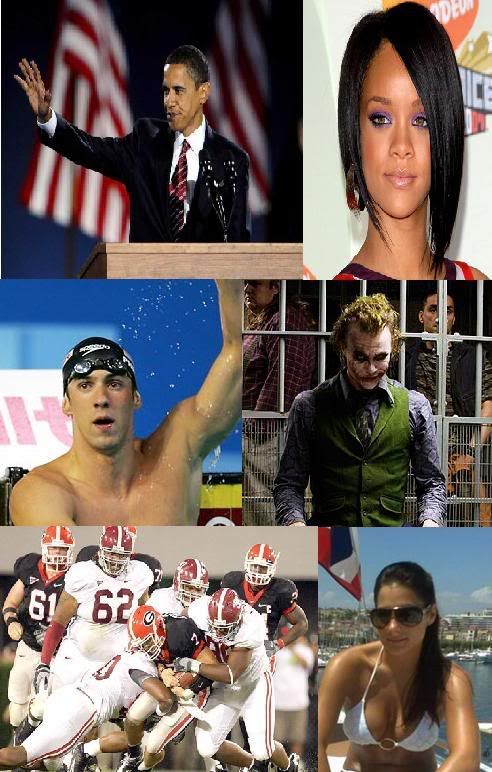 The Nation.
The economy enters a nasty recession. Obama defeats McCain. Some say America is about to take another leap towards collectivism. I say, thanks to the "fundamentalist, ideological, laissez-faire, right-wing" policies of George W. Bush, we're already there. Get ready for more handouts, bailouts, "stimulus" packages, deficit spending, federal interventions, and inflation as government continues to grow and liberty continues to contract. And all of this will somehow get packaged as "change."
Sports.
Georgia's implosion. Phelp's 10,000 calorie diet. Tiger's one-legged victory. The Falcons' turnaround.
Music.
Rihanna, Rihanna, Rihanna. Put on a quite a show. Very entertaining. How 'bout a round of applause. I am usually not into black chicks but this one has green eyes and is from Barbados or something.


At the Movies.
CHEERS: The Dark Knight, Rambo. JEERS: Quantum of Solace, 21, anything else that didn't make the cheers list.
Girls of the Year:
Nastia Liukin & Shawn Johnson*, Sarah Palin, Ashley Dupre, Carrie Underwood, Jenna Bush.
Restaurant of the Year:
Five Guys.
* = I obviously didn't have enough room for Shawn and Nastia's pictures above so here they are just in case you've forgotten:
Angels.